Promotions can help you to create special offers for certain periods or give a discount to certain guests by using a promotion code. Promotions can be used in a variety of different ways. Find out how to create one and how they are applied.
💡 Note: Promotions created in Lodgify will not be exported to Airbnb, Booking.com or Expedia, so they will always need to be handled manually in those channels.
Read about:
Create a promotion
Go to your Main Menu in the top left corner and select Rentals.
Select the rental that you want to create the promotion for and select Promotions & Addons.
Click Assign a promotion.
A slide-in window will appear where you can create a new promotion by clicking Create a promotion or you can select to apply one of your existing promotions to this particular rental.
If you decide to Create a promotion you will need to fill in the details and conditions of your promotion.

You can also add some additional restrictions so that the promotion only applies for last minute or early bird bookings etc.
💡 Notes:
Once saved, you will always be able to edit the discount code by clicking on the pen image next to the promotion name.
You can apply the same promotion for all your room/rental types or restrict it only to certain ones by clicking on the little pencil icon.
If you are using derived rates you can apply a promotion to all rates or restrict it to only specific ones by clicking on the little pencil icon.
If you want to use the same promotion for a different rental, you can decide to discount the same amount for all your rentals, by switching on the Use default button. If you prefer to apply a different amount, switch the button off and configure the discount manually for the new rental.
Let your customers know about the special offer by adding a Promotion Widget on your homepage. Read more.
How a guest can apply a discount code
If the promotion has a discount code, your guests will be able to fill it in at check-out at the bottom of the booking summary on the right.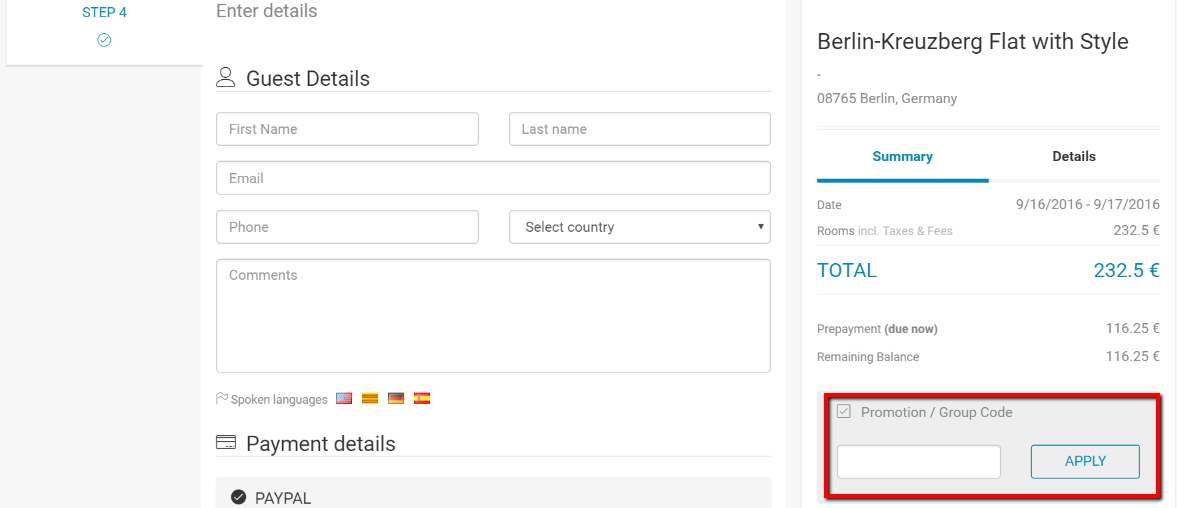 The reduced amount will be shown in the booking summary, no matter if the promotion applies automatically without a code in case certain conditions are met, or once the code is applied.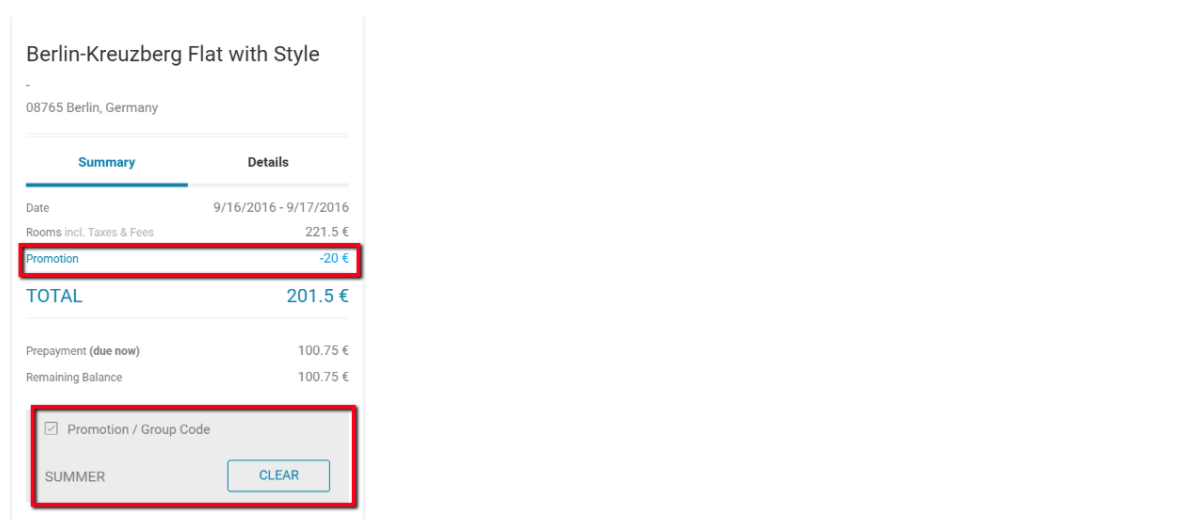 💡 Note: If you are adding a reservation manually, you cannot apply the promotion through a promotion code but will need to apply a discount of the room rate or any other fee.