If you're in reservation request mode on Airbnb, you can respond to an enquiry on Lodgify and even pre-approve it beforehand. When a host clicks 'Contact Host' in Airbnb, you'll receive that inquiry in Lodgify.
This article explains how to use this feature.
Read about:
Pre-approving Airbnb inquiries
The inquiry will be imported directly to your Lodgify Reservations section with its booking status set to Open.
From here, you are able to reply to the guest by clicking Open Messages. If you would like to invite the guest to book the dates listed in their inquiry, you can opt to send them a pre-approval by clicking Confirm. A new window will appear where you will be able to click Confirm again.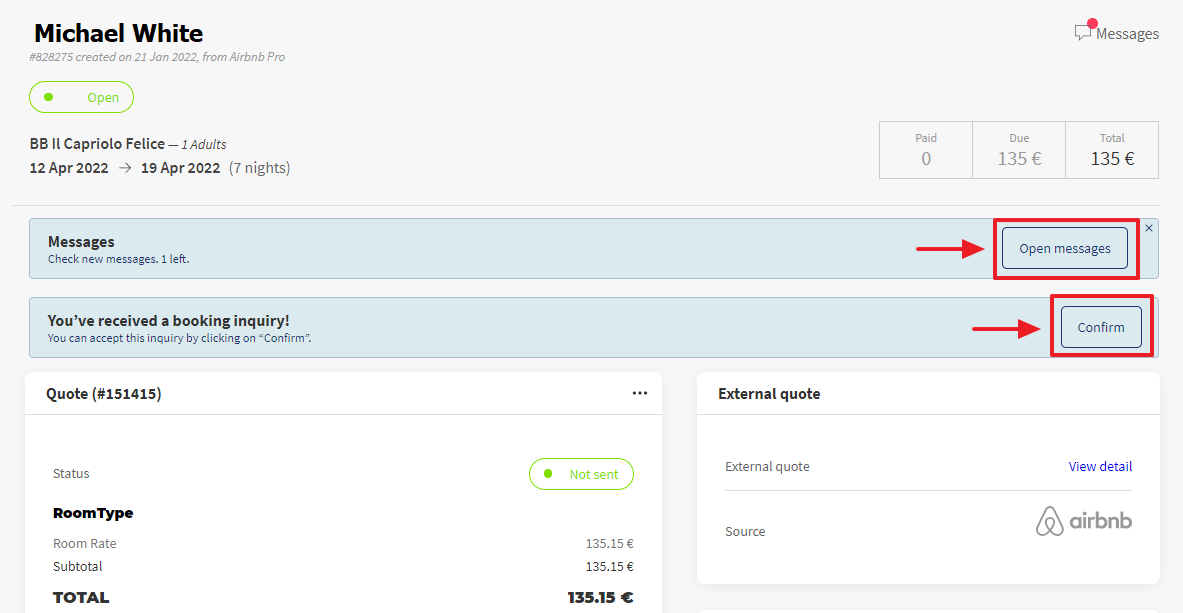 Once the Airbnb inquiry is approved, the booking in Lodigfy will be updated automatically. The booking Status will remain Open, while the quote Status will be revised to Pending for guest.
💡 Note: The Lodgify calendar will only be blocked once the guest accepts the pre-approval and finalizes the booking via Airbnb. At that point, the booking status of the inquiry in Lodgify will change to Booked.
💡 Note: The Automatic response titled Notify the Guest when the guest makes a booking is not sent to Airbnb Inquiries.
Declining Airbnb inquiries
At the moment, If you wish to decline an Airbnb inquiry, you will need to do so from within your Airbnb account. You will then be required to explain the reason to decline.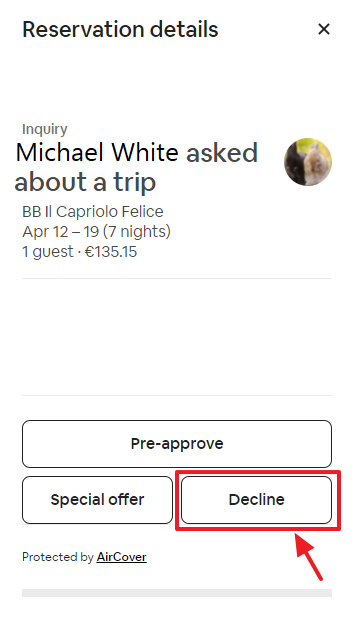 Once the confirmation is sent, the booking will be updated in Lodgify, the booking Status will be revised from Open to Declined and the quote Status will be revised from Not sent to Deactivated.
Airbnb Inquiry FAQ
For how long will the inquiry be valid?
The Airbnb inquiry is only valid for 24 hours, starting from the moment it was created. It will expire after 24 hours if the guest does not respond in time or does not accept the pre-approval.
How is the inquiry quote calculated in Lodgify?
The quote of the Airbnb inquiry imported to Lodgify is a sum of the applicable nightly rates and cleaning fee (excluding taxes), deducted by the Airbnb commission. 
Can I withdraw a pre-approval from within Lodgify?
Currently, this is not possible. You will have to withdraw the pre-approval from your Airbnb account. When a pre-approval or special offer is withdrawn, the quote status of the reservation in Lodgify will revert to Not sent.
Can I send an Airbnb special offer from within Lodgify?
Currently, you are only able to send a special offer directly from Airbnb. However, once a special offer is sent from Airbnb, the booking status of the inquiry imported into Lodgify will change from Open to Tentative, pending for your guest to accept the special offer and finalize the booking.