Adding a logo gives your website a more professional look and it may help you gaining credibility, reputation, and trust of new online visitors.
Some people hire a designer, others browse the web and look for a free or paid self-service page that allows them to design and download personalized logos. If you do not have an image logo yet, create a text one that can be replaced at any time.
Read about:
Add a logo
Go to your Main Menu in the top left corner and select Websites.
Choose the website that you want to add a logo to, click Edit and select Design.
In the tab Business name & tagline you can configure the following:

Use Upload Image to add an image logo. We recommend using a .png format.
Even though you have an image logo always fill in a Business Name to claim the copyright of the page, shown in the footer: the text is displayed on every page of your website and is therefore important for your page's SEO ranking.
Use Business Tagline to include a subtitle underneath your logo. This adds a more personal touch to your website.
💡 Note: If you do not upload an Image logo, then the Business Name will replace it. You can customize the font and the color of both the Business Name and the Business Tagline to give them a more professional look.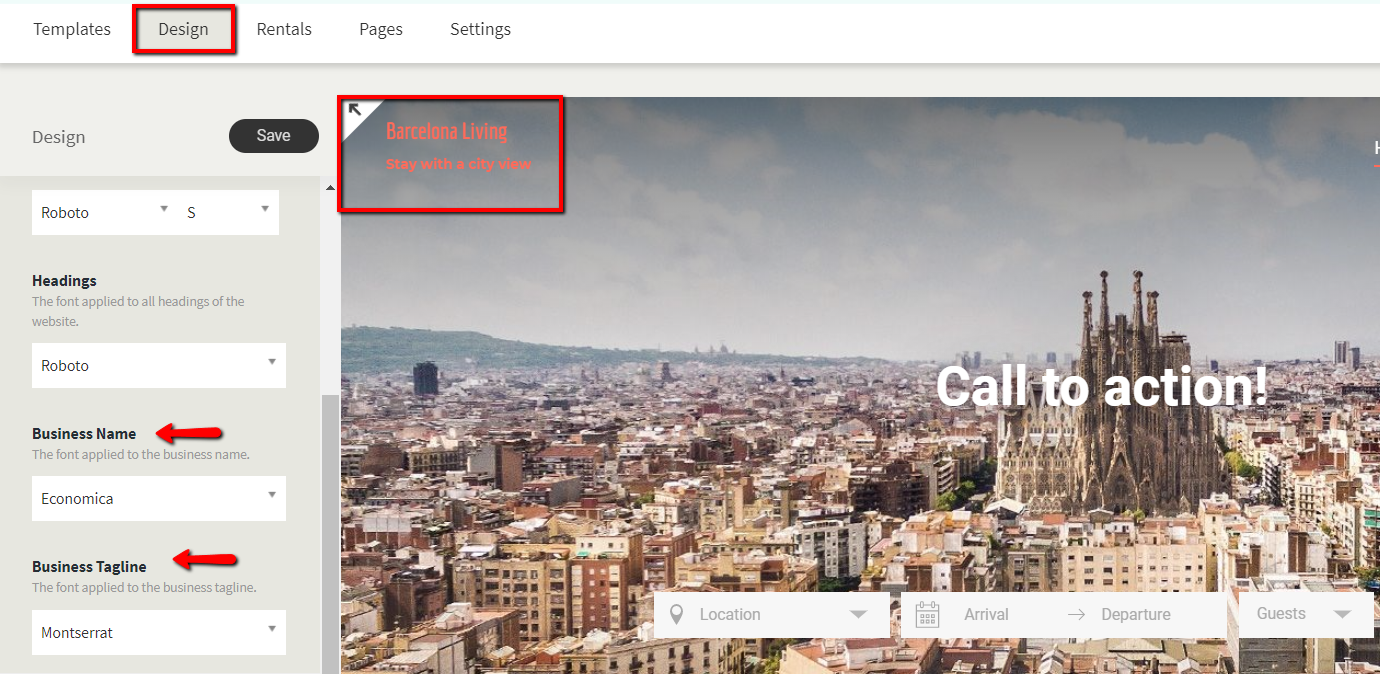 Logo size and rules
The background of the logo should ideally be transparent. To do so, the logo should be composed of vectors or in png format.
Depending on how important the logo presence is for your brand, you might want to choose your template accordingly (in Brooklyn and Capucine the logo is bigger and more of an eye-catcher).
The ideal logo size varies from one template (Tideway, Brooklyn, Livingstone or Capucine) to the other.
| Template | Logo size |
| --- | --- |
| Brooklyn | 200 x 170 px |
| Capucine | 550 x 90 px |
| Tideway | 140 x 80 px |
| Livingstone | 180 x 80 px |
💡 Note: The measures given above consider the margins and paddings of the image, so the logo should always be equal or ideally, a little bit smaller. In case the image size cannot be adapted due to the brand importance you might need to consider a template customization. In this case please get in touch with our Support Team.